This no-bake Italian dessest is the best tiramisu recipe which teaches you how to make tiramisu dessert using mascarpone cheese and lady finger biscuits. Italian Tiramisu is easy to make and can be made with or without alcohol
Ranks high up on the list of Italian desserts that are well known around the world. It is so delicious that even if your not obsessed with desserts, you will still love this classic italian tiramisu recipe
What is tiramisu?
Tiramisu is a famous coffee-based Italian dessert made with biscuits like Savoiardi also known as lady fingers
The biscuits are dipped in a coffee liquid along with layers of beaten mascarpone and whipped cream
Its like a pie or cake that has layers with a delicate taste of coffee and alcohol in every bite
Tiramisu is known to be creamy and smooth in texture with a fluffy feel that comes from the eggs that are added to the recipe
Tiramisu meaning: Tiramisu is an italian word which means "Pull Me Up"
Tiramisu Origin
According to enjoyfoodwine, in 1970 the cook and confectioner Roberto Loli Linguanotto, enter the kitchens of Beccherie
Loli, a man with venetian origins, came back from an experience as a cook in Germany, where he discovered the tradition of the soft desserts; once he came back he remembered home made desserts of his childhood and what gave him the brilliant idea was the easiest dessert: the whipped yolk with sugar, that every child used to eat from Treviso to Venice
Loli, being a good confectioner, melts his culinary roots together with what he learned in Germany; thus, adding mascarpone cheese to it he invented the famous cream and the Tiramisu.
Tiramisu Ingredients
Lady Finger biscuits
What are ladyfingers? Savoiardi also known as Italian Ladyfingers are sponge cake-like biscuits. It is called lady fingers as it is elongated in shape. It's an essential ingredient to make this Italian dessert. People do use substitutes like cake sponge or toast chunks instead of lady finger biscuits but if your looking to make an original tiramisu recipe, you must buy or bake Lady finger biscuits
Coffee
Tiramisu is known to have a beautiful coffee taste and aroma. Thus, you got to use good quality coffee thats best to make this dessert. Strong expresso coffee is the best but feel free to use any instant coffee powder thats easily available
Tiramisu coffee recipe
Combine the coffee powder with sugar, dark rum (or any alcohol of your choice) along with hot water. Keep stirring until the sugar has melted. Let this mixture come to room temperature, the cooler the mixture, the better it is as you do not want to dip the lady finger biscuits in hot or warm liquid. Doing so, will make the biscuits too soggy and we don't want that to happen
Cheese
Cream cheese is a must to make tiramisu. And among all the types of cream cheese, Italian mascarpone is the best. If you do not get mascarpone cream cheese use whichever cream cheese is easily available
Eggs
Traditionally, tiramisu is made with cooked egg yolks and then combined with beaten raw egg whites for a fluffy and smooth texture. I'm not comfortable with using raw egg whites. Thus, we're only going to use the egg yolk mixture that is cooked on a double boiler and not raw egg whites
Heavy cream
As mentioned above, beaten egg whites is what makes the tiramisu fluffy in texture. Since we're not using egg whites, we need an ingredient that will maintain its fluffy texture. Heavy cream that is whipped will do the job. It not just adds a fluffy texture but also makes the tiramisu creamy and delicious. If using unsweetened heavy cream, please add a few teaspoons of sugar as per sweetness while whipping it
Alcohol
That slight hit of alcohol takes this dessert to the next level. In this recipe, I've used golden rum. You can use any alcohol of your choice. Kahlua or any coffee flavored liqueur is excellent for this recipe. Dark rum or brandy also adds a good flavor. So choose what you'd like the most
Does Tiramisu have alcohol
Yes !! But you can make an alcohol free tiramisu
To make a homemade tiramisu recipe without alcohol just skip the alcohol from the recipe. Not everyone appreciates tiramisu with alcohol. You may add lesser or simply avoid it.It still super delicious
How to make Tiramisu – Step by Step
Making the coffee mixture: Combine the coffee powder, sugar, rum and hot water. Mix well and let this mixture come to room temperature
Soaking the lady finger biscuits: Dip the ladyfinger biscuits in the coffee mixture and place it in a dish to form a layer
Cooking the egg yolks on a double-boiler: Place the egg yolks and sugar in a bowl and then place the bowl on a double boiler. Cook on medium heat until the sugar in it dissolves
Combine the egg yolks with other ingredients: Once taken off the gas, add the mascarpone cheese and rum into the mixture. Whisk until smooth
Beating heavy cream: In another bowl, beat the heavy cream until soft peaks form. Combine the beaten cream with the egg yolks mixture
Layering the tiramisu: Pour half the tiramisu batter over the soaked biscuit layer. Place another layer of soaked ladyfinger biscuits and pour the remaining batter on it. Smoothen the top and refrigerate for 8 to 12 hours. Dust with cocoa powder before cutting slices of tiramisu to serve
Recipe Card – Best tiramisu recipe
Printable Recipe
This no-bake Italian dessest is the best tiramisu recipe which teaches you how to make tiramisu dessert using mascarpone cheese and lady finger biscuits
Ingredients
Coffee Mixture
1 ½

tablespoon

strong instant coffee

7.5 grams

2

tablespoon

castor sugar

30 grams

1 ½

cup

hot water

350 ml

1

tablespoon

golden rum

15 ml
Tiramisu batter
3

egg yolks

¼

cup

castor sugar

60 grams

1

cup

mascarpone cream cheese

200 grams

2

tablespoon

golden rum

30 ml

1

cup

sweetened heavy cream

200 ml

18-20

lady finger biscuits

2

tsps

cocoa powder, for garnishing (optional)
Instructions
For the coffee mixture:
In a bowl, combine the coffee powder, castor sugar, rum and hot water together. Mix well until the sugar melts and set this aside
For the tiramisu batter:
Take a bowl, add the egg yolks and castor sugar to it. Place this bowl on a double boiler on medium heat and keep stirring constantly until the sugar in it has dissolved. The mixture should turn creamy and fluffy in texture

Take it off the double boiler and whisk in the mascarpone cheese, making it a smooth batter. Add in the rum and continue whisking

In another bowl, whisk the heavy cream until soft peaks form. Do not overbeat

Combine the egg yolk batter along with the whipped heavy cream. Mix until well combined and smooth
Assembling the tiramisu
Take any dish of your choice. I used a rectangular glass dish (32cms *18cms)

Dip the lady finger biscuits in the coffee mixture (make sure you do this step quick) do not soak it too long as it will loose its shape. Place a layer of the finger biscuits in the glass dish and pour half of the tiramisu batter over it. Smoothen the top using a spatula

Repeat the step by placing one more layer of soaked lady finger biscuits and top it up with the remaining tiramisu batter. Smoothen the top and cover the dish with cling wrap. Refrigerate the tiramisu for 8 to 12 hours

Before serving, dust the tiramisu with cocoa powder on the top. Cut slices and serve chilled
Recipe Video
About Videos – most recipes has two videos – a quick version in the post & longer detailed version on this recipe card. Please do subscribe to my channel if you like my videos
Nutrition Information
Calories:
464
kcal
|
Carbohydrates:
36
g
|
Protein:
8
g
|
Fat:
33
g
|
Saturated Fat:
19
g
|
Polyunsaturated Fat:
2
g
|
Monounsaturated Fat:
9
g
|
Cholesterol:
253
mg
|
Sodium:
182
mg
|
Potassium:
135
mg
|
Fiber:
1
g
|
Sugar:
15
g
|
Vitamin A:
1404
IU
|
Vitamin C:
1
mg
|
Calcium:
90
mg
|
Iron:
2
mg
The nutrition information and metric conversion are calculated automatically. I cannot guarantee its accuracy. If this data is important to you please verify with your trusted nutrition calculator. Thank you
Did you make this recipe? I'd love to hear how it was.
Mention @bakealish or tag me on Instagram #bakealish
Best Dessert Recipes to try
Mango Coconut Summer Dessert
Mango Coconut Summer Dessert These Mango Coconut Summer Dessert Shots is a 3 Ingredient dessert recipe which is quick and easy to make, with the best balance of flavors made with Exotic summer fruits like mango & coconuts. Thus, this recipe is delicious, creamy and the best part is it's totally healthy and good for […]
Brownie Lava Cake
Brownie Lava Cake Recipe is a combination of a brownie cake and the Molten Lava Cake. It is a rich gooey chocolate cake topped with chocolate ganache. When you cut into this brownie, it has chocolate ganache oozing out. Fun to make, this cake definitely tastes as good as it looks About this Brownie cum […]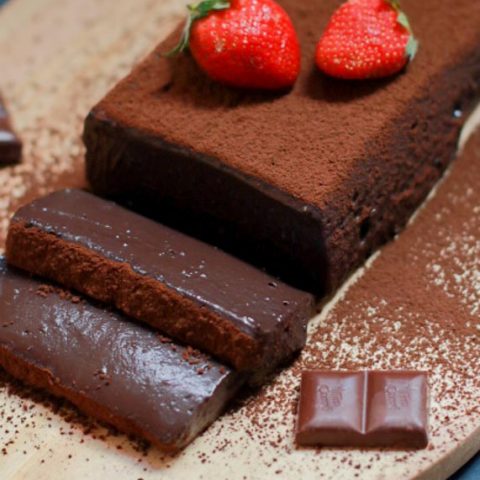 Chocolate Mousse Cake
This Easy No-Bake Chocolate Mousse Cake made with dark chocolate has a silky and creamy texture. This decadent cake dessert recipe made without the oven is a perfect dessert option for every occasion. It is a quick and easy dessert recipe, perfect to satisfy your sweet tooth ABOUT THIS WOBBLY DESSERT RECIPE – Chocolate Mousse […]
Chocolate Eclairs
Chocolate Eclairs Chocolate Eclairs is an oblong pastry featuring the choux pastry, vanilla pastry cream, and chocolate ganache topping. Check out the recipe video on how to make chocolate eclairs at home  Firstly, ABOUT THIS RECIPE (Chocolate Eclairs) So, this Chocolate Eclair recipe with custard filling is easy to make and tastes delicious Firstly, you […]
Tropical Jelly Fruit Cake
Tropical Jelly Fruit Cake dessert is an agar-agar fruit jelly cake with a burst of fresh fruit and coconut milk flavors. This agar jelly cake recipe with fruits is not just tasty but looks even beautiful. The freshness of the fruit with bright colors popping through the jelly makes this agar agar cake recipe very […]