This Easy No-Bake Chocolate Mousse Cake made with dark chocolate has a silky and creamy texture. This decadent cake dessert recipe made without the oven is a perfect dessert option for every occasion. It is a quick and easy dessert recipe, perfect to satisfy your sweet tooth
ABOUT THIS WOBBLY DESSERT RECIPE – Chocolate Mousse Cake
This mousse cake is a wobbly dessert with a silky texture and rich in chocolate flavor 
It is the creamy chocolate mousse itself which set in the form of a cake 
Easy to make eggless dessert recipe. All you need to do is mix the ingredients in one bowl, cook the mixture and chill the cake. 
A no-bake chocolate dessert recipe perfect for every occasion
Wobbly Chocolate Mousse Cake Dessert 
The most exciting part while making this dessert was cutting the cake using a hot knife. For instance, it felt just like cutting a big chunk of creamy butter which slips off a hot knife 
This is a decadent dessert recipe with chocolate screaming out loud in every bite. In addition, the recipe has a good combination of melted chocolate and cocoa powder. The cream and milk is the reason for its beautiful texture. In addition, it is fun to make this recipe with kids, as it's easy with no baking required. As a result, this recipe definitely is on my list for the best chocolate desserts I've tried till date 
Note, this cake is quite different from the regular mousse cake which is normally made of a chocolate sponge and mousse frosting. This one is decadent and stands true to the real mousse but making sure it feels like cake. So, it tastes like a mousse but is actually cake. I like to top this dessert with lots and lots of fruits. Moreover, strawberry being an absolute favorite for this dessert, so, it's lots and lots of strawberries. 
Make sure to serve this dessert when it's well set, slightly firm. Do not keep it out for a long time, if not being eaten immediately store it in the fridge as it begins to melt or soften within 20 minutes. This dessert is a favorite among kids.
Variations to making this mousse cake 
You can also follow the same procedure with milk chocolate if you like that better. So all you need to do is change one ingredient that is Dark chocolate to Milk chocolate. You can also make a white chocolate mousse by changing the master ingredient, Dark chocolate to white chocolate and skip the cocoa powder from the recipe. I personally like the Dark chocolate variation
COMBINING THE INGREDIENTS FOR THE MOUSSE CAKE 
First of all, you need to combine all the ingredients besides the chopped chocolate in a bowl. Mix well. Above all, once you've combined the ingredients it is essential to strain the mixture before you cook it. As a result, there are no lumps and the end result is a creamy and silky-textured mousse
COOKING THE MIXTURE 
Also, make sure to cook the mousse mixture on medium heat stirring continuously. However, if you do not stir constantly the cornflour will eventually form lumps in the mousse. Once the mixture starts to thicken cook it for 2 to 3 mins, add the chopped chocolate and continue stirring. Thus, you cook the mixture till all the chocolate has melted. Once the chocolate has melted switch off the gas
SETTING THE MOUSSE
In conclusion, pour the mousse mixture in a cake mold that is lined with parchment paper on all sides. Let this sit in the fridge for a good 6 to 8 hours before unmolding. As a result, the mousse should feel slightly firm and wobbly. In other words, you must be able to cut into it still making sure its creamy just like a mousse should feel 
Mousse Cake Recipe 
Ingredients 
full-fat milk 500 ml
full-fat cooking cream 50 ml
cocoa powder 25 grams 
cornstarch 25 grams
castor sugar 80 grams 
compound dark chocolate, chopped 200 grams
Method
Firstly, in a bowl, combine the milk, cream, cocoa powder, cornflour, and castor sugar. Whisk the mixture and strain it. As a result, the mixture won't have lumps 
Put this mixture in a pan and cook on medium heat. Once the mixture starts thickening continue cooking it for 2 to 3 mins. After that, add the chopped dark chocolate and let it melt completely. Switch off the gas and pour this mixture in a 5-inch cake mold lined with parchment paper
Refrigerate for 6 to 8 hours. In addition, to remove the mousse cake from the mold, tilt the cake mold and remove the mousse cake from the mold. Carefully, peel off the parchment paper from the chocolate mousse cake, dust with cocoa powder and cut slices using a hot knife 
Serve immediately or store in the fridge 
Recipe Card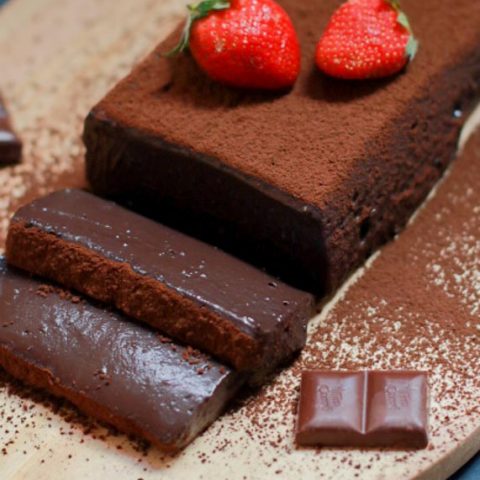 Chocolate Mousse Cake
Total Time:
8 hours
15 minutes
This Easy No-Bake Chocolate Mousse Cake made with dark chocolate has a silky and creamy texture. This decadent cake recipe made without the oven is a perfect dessert option for every occasion. It is a quick and easy dessert recipe, perfect to satisfy your sweet tooth
Ingredients
full-fat milk 500 ml
full-fat cooking cream 50 ml
cocoa powder 25 grams
cornstarch 25 grams
castor sugar 80 grams
compound dark chocolate, chopped 200 grams
Instructions
In a bowl, combine the milk, cream, cocoa powder, cornflour, and castor sugar. Whisk the mixture and strain it. As a result, the mixture won't have lumps 
Put this mixture in a pan and cook on medium heat. Once the mixture starts thickening continue cooking it for 2 to 3 mins. After that, add the chopped dark chocolate and let it melt completely. Switch off the gas and pour this mixture in a 5-inch cake mold lined with parchment paper
Refrigerate for 6 to 8 hours. In addition, to remove the mousse cake from the mold, tilt the cake mold and remove the mousse cake from the mold. Carefully, peel off the parchment paper from the chocolate mousse cake, dust with cocoa powder and cut slices using a hot knife 
Serve immediately or store in the fridge 
Nutrition Information:
Yield:

5-6 slices
Serving Size:

100g
Amount Per Serving:
Calories:

210kcal
Total Fat:

10.86g
Saturated Fat:

6.369g
Trans Fat:

0.056g
Unsaturated Fat:

3.236g
Cholesterol:

9mg
Sodium:

35mg
Carbohydrates:

25.76g
Fiber:

3.2g
Sugar:

17.17g
Protein:

4.2g
Lastly,
My Top 5 Chocolate Recipes 
Some recipes you may find Interesting